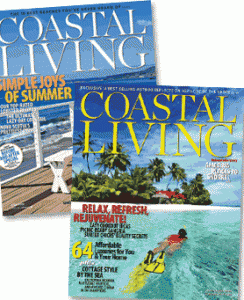 Published by the Southern Progress Corporation, Coastal Living Magazine covers all things trendy in life on the coast from decorating to real estate, giving Daniel Island some special attention this year. For the first time since 2009, the magazine is heading back to South Carolina's Lowcountry to create its annual Showhouse. The project is designed to highlight the best ideas in architecture, residential real estate construction, home décor and more.
Coastal Living built two 2009 Showhouses: one in Mt. Pleasant's I'on neighborhood and the other in Sunset Harbor, North Carolina. Other recent locations include Seabrook, Washington, in 2010; East Beach, Virginia, in 2011; and Rosemary Beach, Florida, in 2012. We're glad the magazine's editors have found their way back to South Carolina and impressed that they chose Daniel Island. Given the community's bustling real estate market as of late, Coastal Living seems to be "in the know" when it comes to tapping into trends among coast dwellers.
Construction on the Showhouse, whose development falls under direction of the Daniel Island Company, broke ground earlier this year with completion slated for the beginning of June. In addition to occupying a feature-story slot in the magazine's October issue, the Showhouse will be open for tours from June 28 to August 18, 2013. Expected to attract thousands of innovative real estate and design enthusiasts, the tour is priced at $15 per person with a portion of the proceeds benefiting the Greater Carolina Chapter of the National Multiple Sclerosis Society.
If you're interested in owning your own home in the community, consider this: The Charleston Trident Association of Realtors considers Daniel Island an "Area to Watch," pointing to a 171% year-over-year increase in closed real estate transactions, a 28% gain in prices and a 44% reduction in inventory.
Area Realtor Bob Brennaman can help you find your own showhome on Daniel Island. Having guided scores of clients to their ideal homes, his years of experience translate to acute knowledge of the market, and he is easily reached by phone (843-345-6074) or through the Web.