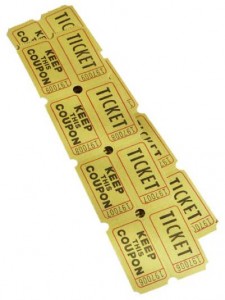 Stopped to chat with my neighbor this morning — we've both spotted bluebirds in our yards for the first time in a couple of years, so we had a lot to talk about! One thing we couldn't get over was how much is going on in Charleston this weekend. Besides the history, the beaches, good neighbors and old-fashioned Southern hospitality, the endless amount of festivals and events to suit all tastes is just another in a long list of reasons why Charleston is a world-class destination.
So if you are considering purchasing real estate or renting in the Charleston area, but not quite sure a "small" Southern city is what you're looking for, check out this extensive list of events taking place this weekend — you might be surprised!
If you are into fitness and a healthy lifestyle…
It's time again for the Cooper River Bridge Run this Saturday, March 31, 2012. The 10-K race is in its 34th year and attracts racers from around the world. The Cooper River Bridge between Mount Pleasant and downtown Charleston will be closed from 7:00 a.m. until 1:00 p.m., and there will be multiple other road closures on Friday and throughout Saturday to accommodate the event. View road closures here. The race begins on Coleman Boulevard in Mount Pleasant and will end in downtown Charleston. The Finish Festival will be held in Hampton Park in downtown Charleston. There are so many offshoot events scheduled to compliment the Cooper River Bridge Run that we cannot list them all here, but some include the Kids' Run, the Taste of the Bridge Run and numerous other events around town.
If you are into history and historic homes and gardens…
Check out the Charleston Festival of Houses and Gardens. This month-long event just kicked off last week and gives participants a rare glimpse into some of Charleston's most stately and historic private homes and gardens while detailing the rich history of the area. On Friday, March 30, 2012, from 2:00 to 5:00 p.m., homes and gardens along Wentworth Street will be toured. On Saturday, March 31, 2012, the tour will visit the homes, churches and cemeteries on Church Street (the most romantic street in America) from 6:00 to 9:00 p.m. The weekend wraps up with the Anson Street tour from 2:00 to 5:00 p.m. on Sunday. If you don't have time this weekend, the Charleston Festival of Houses and Gardens host tours everyday through April 21, 2012, including a plantation picnic and tours focused specifically on gardens. Tickets are $45 per day, and tour times vary.
If you are into tennis…
The Family Circle Cup is coming to Daniel Island, beginning on Saturday, March 31, 2012. The weeklong tournament features the best in women's tennis along with some fun, family-oriented events and activities. More than 90 players will compete for a portion of the $749,160 purse. Past champions of the Family Circle Cup include Venus Williams (2004), Serena Williams (2008), Samantha Stosur (2010) and Caroline Wozniacki (2011). This weekend is Family Weekend, and in addition to world-class tennis, there will be children's activities, such as a jump castle, children's yoga and cookie decorating. The event will take place at the Family Circle Magazine Stadium daily through the big event on Sunday, April 8, 2012. This year's player field includes Samantha Stosur, Vera Zvonareva, Venus Williams (WC), Serena Williams, Agnieszka Radwanska, Marion Bartoli, Sabine Lisicki, Jelena Jankovic, Nadia Petrova, Yanina Wickmayer and many other top names in women's tennis.
If you're into family-oriented outdoor festivals…
Visit Summerville's Flowertown Festival. The three-day event begins Friday, March 30, 2012, from 9:00 a.m. to 5:00 p.m., continues on Saturday (9-5) and wraps up on Sunday (9-4). The festival attracts more than 200,000 visitors to the area and features local artists and craft vendors, some of the best food around and family fun, including children's activities and rides. But the main attraction is — as the name suggests — the gorgeous flowers that are in full bloom all over Summerville. The azaleas, wisteria and dogwood trees are so abundant that they almost outshine the graceful historic homes Summerville is known for — almost. Parking and admission are free, but pets are not allowed at this event.
This is just a sampling of events on a single weekend in Charleston. The sheer amount of things to do here is pretty incredible. If you're visiting town for one of these or another event, why not try to work in a tour of area real estate? If you're considering moving to the Charleston area, give Bob Brennaman a call at 843-345-6074. He can provide you with a free, no-obligation tour of the area of your choice and plenty of good insights into Charleston and Daniel Island real estate markets.