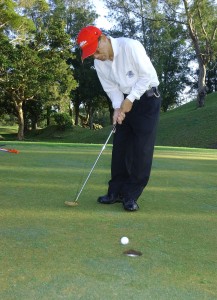 The PGA's 2011 Nationwide Tour wrapped up its yearlong 26-stop golf tournament last week (October 24–30) with the $1-million-purse Nationwide Tour Championship at Daniel Island, which took place at the Daniel Island Club's Ralston Creek Course in Charleston, South Carolina.
The top 25 Nationwide Tour finishers graduate to a spot in the main PGA TOUR the following year. The event was televised on the Golf Channel. This year, 42-year-old Ken Duke won the Nationwide Tour Championship at Daniel Island, taking home $180,000 of the $1 million up for grabs and securing a spot on the PGA TOUR in 2012. Duke is the second oldest Nationwide Championship Tour winner in history.
The Nationwide Tour Championship is the most important event in the yearlong tournament and has taken place on Daniel Island since 2009, solidifying Daniel Island's reputation as a world-class golf destination. The par-72 Ralston Creek Course at the Daniel Island Club development where the event takes places was designed by Rees Jones and stretches across 7,446 yards of gorgeous Lowcountry scenery. There is a second 18-hole course designed by Tom Fazio, making the Daniel Island Club the only private golf club in the United States to feature a Jones-Fazio pairing on the same property.
The Tickets Fore Charity™ program raised money for charities in partnership with the Nationwide Championship Tour. In 2010, a total of $64,000 was raised to support the Student Transportation of America Education Foundation (STAEF), a national nonprofit organization that is dedicated to providing safe, reliable and cost-effective transportation solutions for school districts. Another $21,000 went to local Charleston charities in 2010. This year in 2011, STAEF partnered with Mark Bryan's (of Hootie and the Blowfish fame) Carolina Studios, a nonprofit music and media arts program for at-risk youth. A celebrity Pro-Am tournament was held the morning of October 25, 2011, and benefit concert, featuring Mark Bryan and others was open to the public (via Ticketmaster event tickets) that evening.
The Nationwide Tour visited golf courses around the world, beginning in February with the $550,000-purse Panama Claro Championship at the Club de Golf de Panama in Panama City. Other destinations included the $600,000-purse Pacific Rubiales Bogot Open Presented by Samsung at the Country Club de Bogot in Bogot, Colombia; the Fresh Express Classic at TPC Stonebrae in Hayward, California, also with a $600,000 purse; the Mexico Open at El Bosque Country Club in Leon, Guanajuato, Mexico, with $700,000 up for grabs; the $800,000-purse Nationwide Children's Hospital Invitational at Ohio State University Golf Club's Scarlet Course in Columbus, Ohio; and the Miccosukee Championship at the Miccosukee Golf and Country Club in Miami, Florida, which had a $600,000 purse.